| | |
| --- | --- |
| | Top Destinations |
| | |
| --- | --- |
| | Travel Tools |

Phuket hotel - Thailand hotels resort and accommodation guide
Phuket Fantasea

Palace of the Elephants is a grand 3000 -seat state of-the-art theater that houses a spell-binding show combining culture and illusion that is beyond imagination.
"Fantasy of A Kingdom" is the ultimate in Las Vegas style show that incorporates Thai culture with magical illusions,4 dimensional effects, aerial ballet,acrobatics pyrotechnics, special effects, elephant circus & stunts into one unforgettable theatrical masterpiece guaranteed to thrill & delight vistors of all ages or nationalities.
Inspired by the colorful Thai heritage, visitors are taken on a journey through Thai mythology andancient battle. Discover the exotic songs and dances and experience the grand illusion when an elephant flies and disappears before your eyes!


From the creators of Safari World, Thailand's most popular animal & leisure park, comes a new and unique cultural theme complex ~ Phuket FantaSea ~ that promises to be the ultimate in nighttime entertainment on Phuket.ich
a festival village with carnivals, games, handicrafts and shopping;
a 4,000-seat restaurant offering a grand buffet of Thai and international cuisine;
A breath-taking Las Vegas-style theatrical show, where state-of-the-art technology and special effects enhance the beauty of Thailand's Myths, Mysteries and Magic in a wondrous extravaganza certain to delight everyone.
Created at a cost of over 3,300 million Baht, Phuket FantaSea adds a whole new dimension to theme park entertainment, with marvelous attractions not found anywhere else in the world.

Main Attractions

1. Palace of the Elephants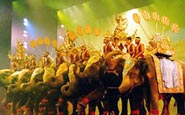 The magnificent Palace of the Elephants is a state-of-the-art theater with wonderful acoustics and seating 3,000 persons. Fronted by a glorious reconstruction of a Sukhothai-era stone palace, with intriguing elephant statues, the theater puts on a spell-binding show combining culture and illusion that is almost beyond belief.

2. "Fantasy Of A Kingdom" Culture-Illusion Show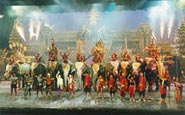 Gate Opens: 20:30 p.m.
Show Starts: 21:00 p.m.
Show duration is approximately 1 hour and 15 minutes.
The client is advised to be at the theatre 20 minutes before the show starts.
Reservation is highly recommended.
The ultimate in Las Vegas-style theatrical productions. Created by international experts and local professionals, this audio-visual extravaganza incorporates, for the first time, nine stunning show themes — Thai culture, magical illusions, 4-dimensional effects, aerial performance, acrobatics, indoor pyrotechnics, special effects, elephant circus and stunts into one unforgettable theatrical masterpiece guaranteed to thrill and delight visitors of all ages and nationalities.

3. Golden Kinnaree Buffet Restaurant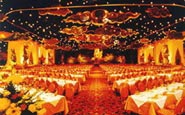 The road from the Festival Village leads to the blue lake, in which floats the beautiful Golden Pavilion, entrance to the world's grandest 4,000-seat dining facility -- the Golden Kinnaree Buffet Restaurant. Here mythical Kinnarees, half-bird and half-woman of legendary beauty and graciousness, look after their guests like proverbial kings. Amidst a mystical Himmaphan forest setting, visitors can indulge in a sumptuous feast of Royal Thai dishes and delicacies from popular international cuisine, prepared by some of Thailand's finest chefs.
The Golden Kinnaree Buffet Restaurant also welcomes large groups, and has a wide range of facilities to host banquets, conferences, corporate meetings and theme parties, all in an unforgettable one-of-a-kind atmosphere of Thai mythology.
Buffet Dinnertime: 18:00 p.m. - 20:30 p.m.

4. Festival Village
A stroll through the enchanted Festival Village is like a journey through Thailand's architectural history. Each fascinating facade promises a unique shopping experience, where visitors can buy high quality locally made products from 15 different shops offering silk, leather, handicrafts, ceramics, jewelry, souvenirs, unusual items about elephants and Siamese twins, and much more!
Home to the Kamalan people, Festival Village is a wonderful introduction to the theme park, where the accent is on fun and enterta+inment coupled with Thailand's legendary hospitality. Marvel at the skills of the villagers demonstrating a range of traditional arts and crafts. Enjoy cultural parades, pageants, street shows and elephant rides. Join in, if you like.

Park Operating Hours: 17:30 p.m. – 23:30 p.m.

5. Iyara Spectacular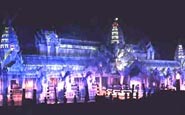 In the Palace court stands the statue of the Prince of Kamala. Frozen in stone. It is said that when the people of Kamala gather around this statue and whisper the magic word "Kamala", the statue will be awakened.
Iyara Spectacular is an outdoor light, sound and dance spectacle celebrating the return of the prince of Kamala, featuring laser, giant projection, animatronics, special effects, inflatables, parade, and traditional fireworks! (Performed only on special occasions.)

Other Attractions
• Hanuman's Lair is full of games, plays and exciting surprises for the kids. Here
the trickster king of the monkeys promises fun and excitement for everyone.
• Kamala Pier Restaurant & Beer Garden offers a haven of delicious food, good cheer and soothing music.
• Cultural Parades & Street Shows
• Traditional Carnivals & Live Music
• Handicraft Demonstrations
Phuket Fantasea Fact Sheet

Cost of Project

3,300 millions Baht.

Area

140 Acres

Nature of Business

Nighttime Cultural Theme Park

Grand Opening Date

6th February 1999

Park Operating Hours

17:30 p.m. – 23:30 p.m. Daily except Tuesday
(If Tuesday is a public holiday, park may open as normal)

Show time

21:00 p.m.

Buffet time

18:00 – 20:30 p.m.

Location

Kamala Beach, Phuket (9 km from Patong)

Show time : 21.00 p.m. (except Tuesday)
Rates includes
- English speaking guide only.
- Other language can be provided with additional cost
Shows + Dinner

1,500 THB.

1,100 THB.

Shows Only

1,000 THB.

700 THB.

Transfer

200 THB.

100 THB.
Show time : 21.00 p.m. (except Tuesday)
Rates includes
- English speaking guide only.
- Other language can be provided with additional cost
Travel Guides