| | |
| --- | --- |
| | Top Destinations |
| | |
| --- | --- |
| | Travel Tools |

Thailand travel - Plan your trip guide
Tour Suggestions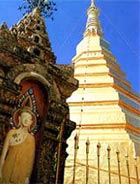 Bangkok is the usual gateway for most travellers, and you should plan on three or five days in the capital. This should allow sufficient time for seeing the major sights such as the Grand Palace and Temple of the Emerald Buddha, Wat Arun, Wat Pho and Vimanmek Mansion. Perhaps also a trip along the Chao Phraya River or a shopping jaunt to Chatuchak Weekend Market.
You might also take an out-of-town excursion (Ayutthaya or Kanchanaburi are top choices). Check out some of the suggestions listed under our Bangkok section.
If a beach vacation is your priority, Bangkok could be followed by a week at Phuket or Samui Island, which offer the most exotic settings. Should your time be limited, the resorts of Pattaya, Rayong, Cha-am and Hua Hin are closer to the capital.
For a different scene, northern Thailand affords plenty of scope for both cultural sightseeing and refreshing escapes into the countryside. Chiang Mai is the best base for exploring the region, offering its own sights as well as numerous hiking and trekking options, and a stay of three or four days gives a good introduction. If you have more time, overnight visits to Mae Hong Son or Chiang Rai are well worthwhile.
Travellers who already know Thailand will find the Northeast region rewarding. The most traditional part of our country, it is best toured by car or bus allow five to seven days.
Thailand further provides excellent facilities for sporting vacations - golf, scuba diving, yachting, and mountain biking. A two-week stay gives time for general sightseeing and special interest activities.
The variations for a visit to Thailand are never endless, and perhaps the best advice to bear in mind when arranging your trip is to plan on coming back.
Transit Passengers useful information

money
The Thai unit of currency is the baht, which is worth a little less than 4 US cents. One US dollar = approximately 40 baht
The baht is divided into 100 satang. "Copper" coins are valued at 25 and 50 satang. "Silver" coins are in denominations of 1,2 and 5 baht. A 10 baht coin is composed of both "silver" and "copper". Banknotes are valued at 10 baht (brown),20 baht (green), 50 baht (blue), 100 baht (read), 500 baht (purple) and 1,000 baht (white and grey).
Travellers Cheques/Cheques/Credit Cards
US dollar traveller cheques can be conveniently cashed at all provincial banks and authorised money changers. Traveller cheques in other currencies are best changed in Bangkok where better rates prevail. Generally, hotel exchange rates are lower than those offered by banks and authorised money changers.
Major international credit cards, such as American Express, Diners, Carte Blanche, Master Card and VISA are accepted by major banks, restaurants, hotels and shops.
Thai and foreign banks provide standard services nationwide, Monday through Friday, except public and bank holidays, between 9.30 AM and 3.30 PM. Major banks such as Bangkok Bank, Thai Danu Bank, Thai Farmers Bank and Siam Commercial Bank operate currency exchange centres in most tourist areas from 7.00 AM to 9.00 PM, seven days a week, including holidays.
Many first-class hotels provide 24-hour money exchange services, but only for major currencies such as American dollars, British pounds, German marks and Swiss francs. Travellers cheques are generally accepted only from bona fide hotel quests.
Eating & Order Thai Food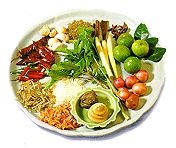 Thai food is eaten with a fork and spoon. Even single-dish meals such as fried rice with pork, or steamed rice topped with roasted duck, are served in bite-sized slices or chunks obviating need for a knife. The spoon is used to convey food to the mouth.
I deally, eating Thai food is a communal affair involving two or more people, principally because the greater the number of diners the greater the number of dishes ordered. Generally speaking, two diners order three dishes in addition to their own individual plates of steamed rice, three diners, four dishes, and so on. Diners choose whatever they require from shared dishes and generally add it to their own rice. Soups are enjoyed concurrently with other dishes, not independently. Spicy dishes are balanced by bland dishes to avoid discomfort.
Thai fruits
Thai fruitsincluding mangoes, managosteens, durians, pineapple, watermelons, papaya, rambutans, longans, lychees, tamarinds, pomegranates, palm fruits, oranges, pomeloes, jackfruits and more than 20 kinds of bananasare available all year round. Some harvests are celebarted in style, with colourful festivals, sometimes featuring a pageant of local beauties.
1. Remember the number of your important document or keep a copy of them, so that you can refer to them in case of loss.

2. Remember the numbers on car licence plates, colour, details of the vehicle or the driver. They would be useful in the case that you have problems and wish to lodge a complaint afterwards.

3. In the purchase of goods or services, carefully consider the conditions and offers before making a decision. Contact a reliable office in the case that you have doubts.

4. Keep receipts and documents concerning the purchase of goods or services. They would be useful in the case that you have problems and wish to lodge a complaint afterwards.

5. Abide by the laws and regulations of every place, so as to avoid any problems. Request advice for correct understanding.

6. Check your belongings before leaving accommodation/services.

7. Recall the following services if you need assistance:-
- Tourist Services Centre (Free of charge and direct line service around the clock 1155)
- Tourist Assistance Centre (Tel. 694-1460 Fax: 6941461)
- Tourist Police Division (Tel. 678-6800 Fax: 678-6869)
Travel Guides