Thailand Activities and Top Things to do guide
What to Buy

A wealth of shopping opportunities awaits the visitor, and bargains abound throughout our country in traditional handicrafts, textiles, gems, jewellery and antiques, as well as more contemporary items.

Gems : Bangkok is the coloured gemstone capital of the world. Rubies and sapphires are indigenous stones, but virtually all coloured gems, as well as diamonds, are available. Shoppers should exercise caution and buy from reputable dealers only.
Clothing : We're one of the world's leading manufacturers of ready-to-wear clothing. Fashion boutiques are found in every shopping mall, while cheaper clothing such as T-shirts and jeans are available at bargain prices from street vendors. Custom tailoring is also very affordable and tailors can produce or copy most styles in just a few days.
Cotton & Batik : Our Thai cottons have become increasingly popular and are a good deal. Particularly notable are the hilltribe cottons woven by the tribal people of the North, typically displaying bold designs and often lavish embroidery. Equally distinctive are original batiks crafted at several studios in Bangkok.
Hilltribe Crafts : The tribal groups who live in the hills of the north make a variety of beautifully embroidered textiles and silver jewellery. Chiang Mai is the centre for such goods.

Where to shop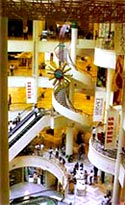 In Bangkok : Shopping in Bangkok is not limited to one or two major streets, and there are many areas throughout the city affording ample choice and easy access. Here's just a selection of some of the places to go shopping!
Chatuchak Park Weekend Market : A famous Bangkok landmark where you can buy just about everything from clothing to potted plants - a paradise for browsers and bargain- hunters alike.
Silom-Mahesak-New Road :
Many gems and jewellery stores are found here, also the River City Shopping Complex, known for its quality antique stores and regular auctions.
Silom-Surawong-Patpong :
The commercial heart of Bangkok. houses dozens of specialist shops,
boutiques and shopping plaza representing all the major buys. Street stalls also abound, most notably Patpong's famous night market.
Bang Lamphu :
Close to the Grand Palace and Temple of the Emerald Buddha, Bang Lamphu has a lively market where clothing is a popular buy.
Beyond Bangkok :
The main city for shopping outside the capital is Chiang Mai, which ranks as one of the world's largest centres for handicrafts and cottage industries. The extensive range of local products includes cotton and silk, hilltribe clothing, Burmese tapestries, hand-painted umbrellas and lacquerware, and many such items can be found at its fascinating Night Bazaar. Pattaya also offers plentiful shopping for Thai goods while virtually all other cities and resorts provide ample opportunity for buying gifts and souvenirs, as well as local specialties.