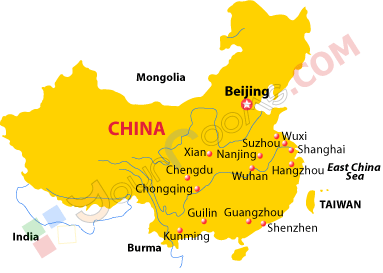 Shanghai

(Central Area, Huangpu, Jingan, Pudong)
Shanghai is China's most comprehensive industrial and commercial city, ranking the first in population and population density. As a tourist city, it attracts travelers from both home and abroad by its commercial activity rather than scenic beauty. more details
Beijing (Airport Area, Central Area, Chao Yang, Chongwen, Beijing's historic, cultural, and political preeminence dates back nearly six centuries. Yet, in spite of devastating urban renewal, modern Beijing continues to convey an imperial grandeur. more details

Guangzhou (Central Area, Riverside)
China is located in Eastern Asia, bordering the East China Sea, Korea Bay, Yellow Sea, and South China Sea. Shared borders with North Korea and Vietnam. Guandong province, whose capital is Guangzhou, ... more details

Xian (Central Area, City East Side, East Economic, Other Area)
As one of the six ancient capitals in China, Xian served as the seat of 12 imperial capitals for 1,120 years and also a world-famous tourist city, a treasure house of cultural relics ...
more details

Kunming (Central Area, Lakeside Area)
Yunnan is the most varied of all of China's provinces, with terrains as widely divergent as tropicall rainforest and icy Tibetan highlands. It is alos the sixth largest provinces in China and the home of a third of all China's ethnic minorities, and it harbours half of all China's plant and animal species... more details
Guilin (Central Area, Lakeside Area, Riverfront)
The best time to visit Guilin is between April and October. During this time, the area is at its most green. The most important thing to know about Guilin (and Yangshuo) weather is that it can get very hot, humid, and it rains A LOT! ... more details
Hangzhou (Central Area, Lakeside Area) Hangzhou was settled as early as 4,700 years ago, thus giving birth to the auroral Liangzhu Civilization. more details
Chongqing (Central Area, Nan Ping, Yuzhong Area)
Chongqing is a port city with the largest municipal area and population in China. It is situated in the upper reaches of the Yangtze River at the confluence of the Yangtze and Jialing Rivers in southwest China. more details
Nanjing (Central Area, Drum District, Lakeside Area)
Nanjing is a famous ancient capital in China, the capital of 10 dynasties; it is one of the historical and cultural cities in the world; also known as "Jinling", "Tianjing", "Stone City", etc,more details
Wuxi (Downtown, Lakeside)
Situated in the middle of the Yangtze Delta, Taihu Plain southeast of Jiangsu province; the Yangtze River to the north and Taihu Lake south;183 kilometers away from Nanjing,
Wuhan (Central Area, Riverside)
Location: at the central part of China; almost wholly located in the Jianghan Plain; sitting at the confluence of the world's third longest river, namely the Yangtze River and its longest branch Hansui River.
Suzhou (Central Area)
Location: situated in the south of Jiangsu Province, in the middle of the Yangtze Delta; in the lower reaches of the Yangtze River and on the shores of Taihu Lake, bordering on Shanghai in the east, Zhejiang Province in the south , Taihu Lake in the west and the Yangtze River in the north
Shenzhen (Central Area, Lo Wu Border)
Shenzhen, the one-time small fishing village, singled-out by late Chinese paramount leader Deng Xiaoping. Formerly known as 'Bao' an County', it was promoted to prefecture level, directly governed by the Guangdong province in November 1979.