| | |
| --- | --- |
| | Top Destinations |
| | |
| --- | --- |
| | Travel Tools |

Vietnam Festival And Seasonal Events Guide
There are thousand of festivals happen in the country in a year. Every festival have its own meaning and dedicated to something: A worship ceremony to the village founder, a ancestor of the handicraft likes silk weaving, a legendary event, a super nature being ... most of the festivals are takes place in country side in Red river delta and Mekong delta where the wet rice culture strong influence to the normal lives. The dates of festivals are based on the lunar calendar, because Viet Nam has same some countries in south east Asia followed Chinese calendar.
Winter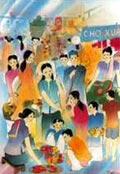 The most popular festival in Viet Nam in winter is ONG TAO, this festival is concerned to every family, it occurred in 23rd day of the 12th and last month in the year, right 7 day before Tet. ONG TAO the God of kitchen is believed existing in every kitchen, he task is to report the things happened in the family in a year and look after for the cooking works. Legendary has it that ONG TAO is three persons, a wife and two husbands they dead by the mistake and the faithfully to each other in fire. The Heaven King feel moved about that and gives them a home is the kitchen and their spirits lives in every family.
In this day, every family buys a carp for kitchen god, he then use it like a transport to heaven, carp is thought will becomes dragon so it explained that not many Buddhist eating carp. For bon voyage, houses are cleaned, party is hold, a real carp after worshiped on altar will be released to river and start in own voyage. When the kitchen God return home, new year begin.

Happy New Year

For visitors to Viet nam, no time is more fascinating - nor more conflising than the weeks leading up to Tet nguyen dan, the lunar new year.
Time is more rush as the year going end, in the week leading up to new year, every where in country is ablaze with color. People buy flowers and peach blossom, busily tidy their homes. AS the big day draw near, people rush off to get a hair cut, buy new clothes, decorate their ancestral altar and prepare massive quantities of special foods , making BANH CHUNG is the most interesting job for every body.
According to Viet nam lore, on the eve of the lunar new year officials are elected in Heaven and charged with overseeing the world. If the newly appointed officials are trustworthy, harvests will be good and the world will be free of wars, nature disasters and plagues. If this year 's crop officials are lazy and greedy, however, life down on earth will be dreary.
Lunar new Year in Viet nam is like Christmas, New year's, Thank giving , Easter, Rosh Hashanah, and Yom Kippur. House calls are positively require during the Tet. Day 1 is reserved for parent and close relatives. Day 2 is for distant relatives and intimate. Day 3 is for friends and newer acquaintances. The most crucial time during the festivities is New Year 's morning, when the first person to sep across the house 's threshold is thought to set the tone for the family in the coming year. Home owners go to great lengths to arrange the first-footer, whose are must be lucky according to the complicated calculations of the Vietnamese horoscope.
Long ago, during the first day of the New Year, poor people would carry buckets of water back home as believed that the money and happiness may flow to they home like the water.
In the day 1 morning, children should first wish their parents and grandparents a hearty " Chuc mung nam moi " - Happy new year! Older people then distribute " lucky money" small red envelopes containing crisp new bill to their kids and to the kids of friends, neighbors and relations.
In 3 days of Tet, nobody sweeps their house for fear of sweeping away good luck. This superstition was imported from China, based upon a legend about a merchant named Au Minh. One day, according the tale, a lake deity sent a maid named Nhu Nguyet to sever Au Minh. There after, Au Minh became very rich. But in the first day of New Year Au Minh beat his servant, at which point she vanished, leaving only a pile of dust. Since, Au Minh lost his wealth, fearing a similar turn of bad luck, people refrain from cleaning up during the first day in new year.
If you visit Viet nam in some that days, it litter bit hard for you, entire communities shut down and takes a few day off from their busy lives. Many museums, markets, restaurants, shops and offices are closed for 4-5 days in the weekend. Major hotels stay open, you should choice a Vietnamese friend and enjoy New Year with his family, wine will be drink everyday.

Spring
Pilgrimage to the perfume pagoda



Viet nam is the Buddhism country with more than 80% population is buddhist, buddhism plays very important role in the social as well as in the family. Most of the festivals in country are involves in buddhism original, Vietnam 's is the cradle of this religion, special in Perfume pagoda.
70 km southwest of Hanoi, in My Duc district, Hatay province. Perfume pagoda festival is the top important festival for the buddhist people, this festival is the longest one in the country and in south east Asia, It is started in 6th first lunar month and ended in the third month. Only 3 months but perfume pagoda attracts about 20 millions buddhist people pilgrimages here. The complex pagodas area of 40 km2 seems have no room in that time, the long queue, path and boat jammed is the normal scenery, but you can not refused to say Perfume pagoda is the most beautiful one in Viet nam.
Thanh Giong Festival



Giong was a legend hero of nation, he known being born in Phu Dong district, just across red river. The legend has it that Giong was born without father, one day his mother went to garden she found a giant human step sealed on ground, so curiously she put her foot in, since her got pregnant, the baby was born but in 3 years he does not talks, smiles and walks. At that time Chinese invaded Viet Nam, the Vietnamese King calls on the patriots to help the country, when the King's envoy passed he home the baby suddenly stand up and talk " let bring me a iron horse, a iron stick I will sweep them away". The envoy so surprise about this, but so stressed in war situation he can not refused. After eaten huge foods that the villagers collected Giong became a big man. ride the iron horse he went directly to the battle field, Chinese invaders defeated then, but Giong not came back home. He ride iron horse fly to heaven, villagers believed that he is the heavenly son.
To day in the victory day the villagers in Phu Dong reenacted the battle for memory GIONG and he called genie.
Tram Gian pagoda festival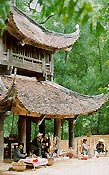 TRAM GIAN - Mean 100 rooms pagoda, it show the long of this construction, which more 900 year old and a lots of ancient statues, the pagoda have its own reputation, every 15 ferbruary the pagoda attracts thousand of people come worshipping, enjoy martial arts displays, chess games, and water puppet show.
it 's 30 km away Hanoi, you can come here by car, bus or motor bike.
Tet Thanh Minh

Thanh minh is celebrated in the first day in third lunar month, the other word is a day of ancestor worship. In Thanh minh day, all people in family go to cemetery to repairing graves of diseased loved ones, burning incense and talking with the dead people.
This ceremony usually takes place in the morning, the family have a party worship at home in afternoon to send foods for the dead having TET.
H'mong spring festival

The H'mong people have they own lunar New Year Tet. It takes place in the third month in Sapa, Bac ha and some other northwest provinces.
This time is the chance for young H'mong find their lover, music through days and nights to calls love, and its also the chance for older drinking wine. If you lucky meet this chance, you will never forget it just in one time.
Summer

Tet Doan Ngo

That TET is celebration the summer solstice, falls on the fifth day of the fifth month. Historically the festival takes place during the hottest time of year. When fevers, malaria and all kinds of insects are very common. This is the open ceremony in each family, special it very busy and nosy in countryside. Fruits, steamed - sticky rice, cakes, and liquor are served to ward off these diseases.
In the countryside the farmer is believed that in the tree exist tree 's soul, in DOAN NGU day they pray to the tree soul to gives them more crop in the year. If they didn't get good crop, the same day in next year they will ask tree again, but by the other way. Usually son and dad, the son climbs on top of tree and acted like tree's soul and answer questions from dad to promise that this year will be full of crop. The ceremony ended by the dad use a big knife cut on the tree to threat that if you not give me crop, I will cut you down.
The DOAN NGO Tet also get highly promotion from government, because a lots damage insects was killed in a day, and people has more awareness of environment protection.
Tet Trung nguyen or Ram Thang bay

This is the second most important event festival in a year after Lunar New Year, it takes place in 14th to 15th of the seventh lunar month. It is time to give thanks and praise to parents and ancestors. But is most important function is to help lost souls by pardoning and looking after them.
Travel Guides