| | |
| --- | --- |
| | Top Destinations |
| | |
| --- | --- |
| | Travel Tools |

China Passport and Visa Travel Guide
All foreigners must take their valid passports with them when entering China; They should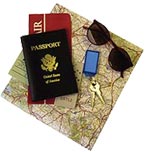 also apply for an visa in China's diplomatic institutions, consular offices and Chinese institutions authorized by the Chinese Ministry of Foreign Affairs. After they have obtained such visas, foreigners can travel in all the open cities across China.
Port visa is a necessary supplement in handling visa by Chinese diplomatic institutions stationed abroad, and enables those foreigners who want to enter China for emergency matters but fail to apply for a visa before hand, to obtain a visa in the port at where they arrive.
To provide convenience for foreigners who come to China on matter of urgency, China has set up port visa institutions in some open cities and regions. Foreigners, having letters or telegrams authorized by Chinese units, passports of countries with diplomatic relations or official trade relations with China, and must come to China at once but have no time to apply for a visa at Chinese diplomatic institutions stationed abroad, may apply for a visa at ports designated by the relative institutes of the Chinese government.
Those under the following conditions may apply for a visa at ports.

(1) At a provisional decision of the Chinese side to come to China to attend trade fairs;

(2) Invited to China to take part in bidding or formal signing of economic and trade contracts;

(3) According to contracts to come to China to inspect import and export commodity inspection or check contracts;

(4) Invited to take part in installation or emergency engineering repairing;

(5) Invited by the Chinese side to solve the problem of indemnity;

(6) Invited to China to provide technological consultation;

(7) Delegations or groups that have arrived in China with visas, but have to make changes with the approval of the Chinese side;

(8) Looking after invalids who are critically ill or attending funeral arrangements;

(9) Those who just pass through China but cannot leave within 24 hours with the original plane due to irresistible cause or should leave China through other means of transportation ;

(10) Invited to China but really have to time to apply for a visa with Chinese diplomatic institutions stationed abroad and with letters or telegrams of designated departments agreeing them to apply for a visa in ports.
Ports designated to handle visa by the Ministry of Public Security are the following: Beijing, Shanghai, Tianjin, Dalian, Fuzhou, Xiamen, Xi'an, Guilin, Hangzhou, Kunming, Guangzhou (Baiyun Airport), Shenzhen (Luohu, Shekou), Zhuhai (Gongbei), Haikou City, Sanya City, Qingdao City, Yantai City, and Weihai City.
No visa is necessary for foreign passengers with through tickets who transit China by international flight or passengers who stay in China's airports for less than 24 hours.
The types of visas can be classified into: diplomatic visa, courteous visa, service visa and general visa according to the status and types of passports held by aliens coming to China. Among them, general visas are divided into:
1. D visa for aliens who are permitted to immigrate to China;

2. Z visa for aliens who come to China for a public post or employment as well as their family members traveling with them;

3. X visa for aliens who come to China for over six months of study, training and internship;

4. F visa for aliens who come to China for visit, inspection, lecture, business, scientific, technological or cultural exchanges or less than six months of training or internship at the invitation of Chinese organizations;

5. L visa for aliens who come to China for tourism, visiting relatives or other personal affairs. Among them, tourist groups of over nine members can be granted team visas;

6. G visa for people who transit China;

7. C visa for crew members in international trains, airplanes or ships and their spouses on entourage;

8. J-1 visa for foreign journalists who serve as resident correspondents in China, J-2 visa for foreign journalists in China for short stays.
Aliens must answer inquiries related and present the following documents:
1. Valid passports or their equivalent certificates;

2. Fill in visa application forms and present two recent half-length, full-face and bareheaded photos;

3. Present documents associated with applying for entry and transit.
Travel Guides